COLLIDZ° – Generative Sequencing Station & Synthesizer.
-> A NEW PARADIGM AROUND HARMONIC SCORES CREATION, MELODIC SEQUENCES PROGRAMMATION, AND REAL-TIME NOTE INTERPRETATION
-> PRESELECT THE NOTES/FREQUENCIES YOU WANT TO PLAY – TWELVE NOTES OF POLYPHONY TO RULE THEM ALL
-> DEFINE INDIVIDUAL TEMPO SIGNATURE & RHYTHMIC RULES FOR EACH NOTE SELECTED…. AND LAUNCH THEM MANUALLY OR THROUGH A MODERN POLYRHYTHMIC SEQUENCER
->FIND VARIATIONS TO YOUR SEQUENCES WITH SMART POSITION & TEMPO WRAPPERS, RANDOMIZATION FUNCTIONS & POWERFUL TRANSPOSITION FEATURES.
->CHOOSE FROM CLASSICAL SCALES AND MODES, SET YOUR CUSTOM TUNINGS, OR EXPLORE UNKNOWN TEMPERAMENT SETTINGS AND MICROTONAL SCALES.
REQUIREMENTS
– a MAC or a PC with a FULL version of Reaktor 6.4.3     (CAUTION: the .ens is not encrypted for Reaktor Player)
– A screen resolution with a minimum of 1920 x 1200 megapixels for a full display on the screen. COLLIDZ° panel dimension is 1660×1115 megapixel.
– Intel Core i7 equivalent must be enough with 16 GB of Ram. To give an idea this ensemble has been created on a 2,7 GHz Intel Core i7.
– CPU usage: Around 34% and 39% with a 2,7 GHz Intel Core i7, 16G Ram, and Reaktor 6 stand-alone. A maximum of 42% have been measured with all the effects enabled. (test made with a Macbook Pro 2013 version)
– An internet connection to download the files and potential updates.
– Size : 329 Mo
COLLIDZ° is not compatible with REAKTOR PLAYER. For an unlimited experience with the instrument you need a full version of REAKTOR 6
REVISIT CLASSICAL TONE GENERATORS WITH THE 4 EMBED SYNTH ENGINES :

 STROKES – A PERCUSSIVE SYNTH BASED ON FM OPERATORS
 FRICTION – A MODAL SYNTHESIS STRINGS EMULATOR
 GROUND – A TWO OSCILLATORS BASED SUBTRACTIVE SYNTH
 SHOCK – A VIRTUAL ANALOG DRUM AND PERCUSSION ENGINE
SHAPE ATMOSPHERE OF YOUR TONES ANS SEQUENCES WITH A CONTEMPORARY EFFECT FLOW BASED ON 4 MODULES :
 LARSEN – A MULTIPURPOSE RESINER, RESONATOR, AND SATURATOR MODULE
 FROST – A REAL-TIME GRANULATOR – FREEZE EFFECT
FEATHER – A SELECTOR OF AMBIANCES AND REVERB TYPES
JUICE – A RADIO AND CASSETTE TAPE EMULATOR AND FILTER
Read more
ALL IN ONE CONCEPT – UNIQUE VIRTUAL INSTRUMENT :
FULL OF ADDITIONAL FEATURES WITH 2 LFOS, CUSTOM BPM COMMANDS, OTT COMPRESSOR… RANDOM PHRASE GENERATOR…
COLLIDZ° ALSO ALLOWS TO FEED AND LOOP EXTERNAL INPUT INSIDE THE AUDIO ENGINE (INTAKE).
CREATE GENERATIVE SOUNDSCAPES FROM AN EXTERNAL AUDIO PEAK DETECTOR (SENSOR: AUDIO TO GATE )
UP TO 100 SNAPSHOTS AND STARTERS CLASSIFIED BY SYNTH ENGINES .. ALL ENGINES OFFER A TONE PRESETS SELECTOR ( AROUND 30 BASIC SETTINGS MINIMUM PER ENGINE)
FIND NEW INSPIRATIONS OR JUST PRESS PLAY AND LISTEN
MAKE THESE BLOCKS OF SOUNDS COLLIDE WITH EACH OTHER.
Read more
FEATURES LIST :
4 Synth engines and tone generators:
STROKE : FM Percussion Synthesis with 3 operators, 2 envelopes, 2 modulators.

FRICTION : Dual Resonator Modal String Synthesis with 1 envelope, 2 pole Filter.

GROUND : Dual Oscillator Subtract Synthesis with 4 waveforms per oscillator (Square, Sawtooth, Triangle, Sin), 1 Filter (LP4, BL4, BP4, LP2, BP2, HP2), ADSR envelope, 1 LFO (Sin, Triangle, Pulse, Random),.

SHOCK : Virtual Analog Drum Synthesis with 12 modules (Bassdrum, Snare, Hihat/Cabasa, Claps, Miniperc, ResTom, RingoBell, Steel, Laser, OSC Drum, FM Shaker)
3 Tuning Modules :
FORCE : Scales, Modes, and Chords MIDI filter with a root note selector and 46 scales, 8 modes, 9 chords + send function.

CUSTOM : Custom tuning module with Note name selector, Midi note selector, Frequency/coarse selector, Octave selector, Virtual Keyboard note selector.

ANCHOR : Scale calculator module with factors command, 4 Anchors knobs with slot position and values.
12 Tracks Grid Sequencer :
Sequencer comes with Length, Speed, Hold, Random, and Beat Repeat controls. 4 macro controls in order to generate pattern variations. BPM and custom BMP control, Tempo divider, Shuffle, Random Velocity controls.
4 Effect Modules :
LARSEN : Resonate/shifter

FROST : Micro Delay/Freeze

FEATHER : Digital Reverb

JUICE : SSB Radio & Tape Machine Emulator
2 Modulators :
SKATE : Global Midi transposer, 12 semitones slots selector with embedded automation recorder

Two LFOs with a routing system in order to modulate 5 effect parameters.
2 Audio Input Modules :
INTAKE : External Audio router and Looper

SENSOR : Audio to Gate Converter based on a peak detector.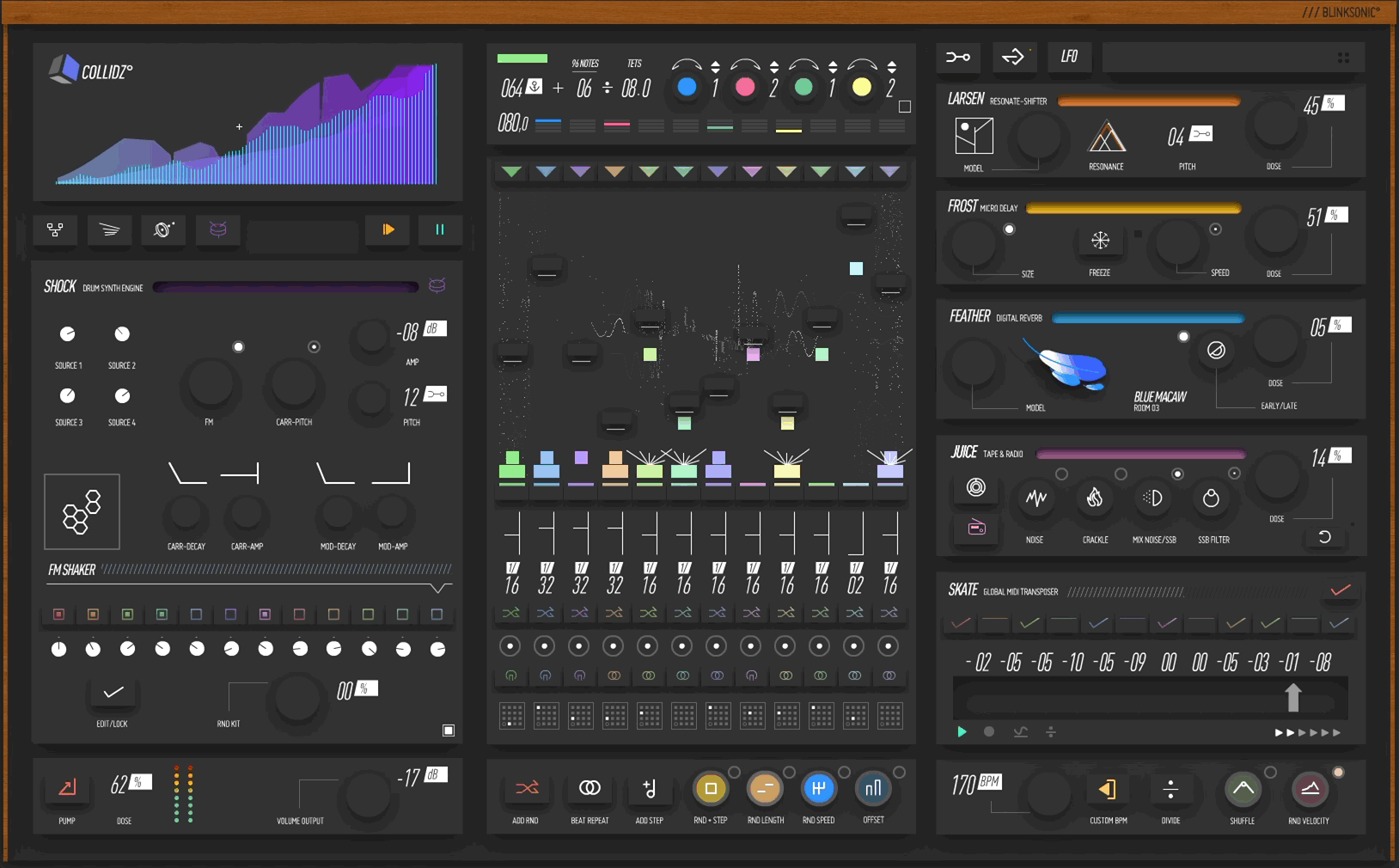 Want a deep overview and see how it works =>
Any questions ? Don't hesitate to ask ! =>
Purchase COLLIDZ° now and get instant download  ! =>