CATALIZ° – Playable Granular Synth & Beatlooper.
-> Splice and dice over samples ! Slide the cursor over the pad and travel/scan inside waveform's micro formants or even jump over different slices… CATALIZ offers a refreshed approach to produce playable harmonics and beats or creative sound design, giving birth to unusual textures and never heard sounds patterns.
-> Enhance the granular stream with a Modal Filter and a Resochord for a more physical acoustic rendering of the sound. Less crunchy, totally spectral.
-> Skip from 5 different samples on each incoming gate event with the Random and Forward mode in order to push morphing effects between sounds on your preset parameters.
-> A perfect device for sound designers, composers and music producers that comes with 1,84 Giga of sounds form of all kind ( pads, beats, slices, noises, voices, field recordings.. ) distributed in 9 banks.
-> An impressive collection of 500 presets which explore the various instrument scope (drones, atmos, cinematic soundscapes, SFX, whooshes, timbres and even rhythmics ).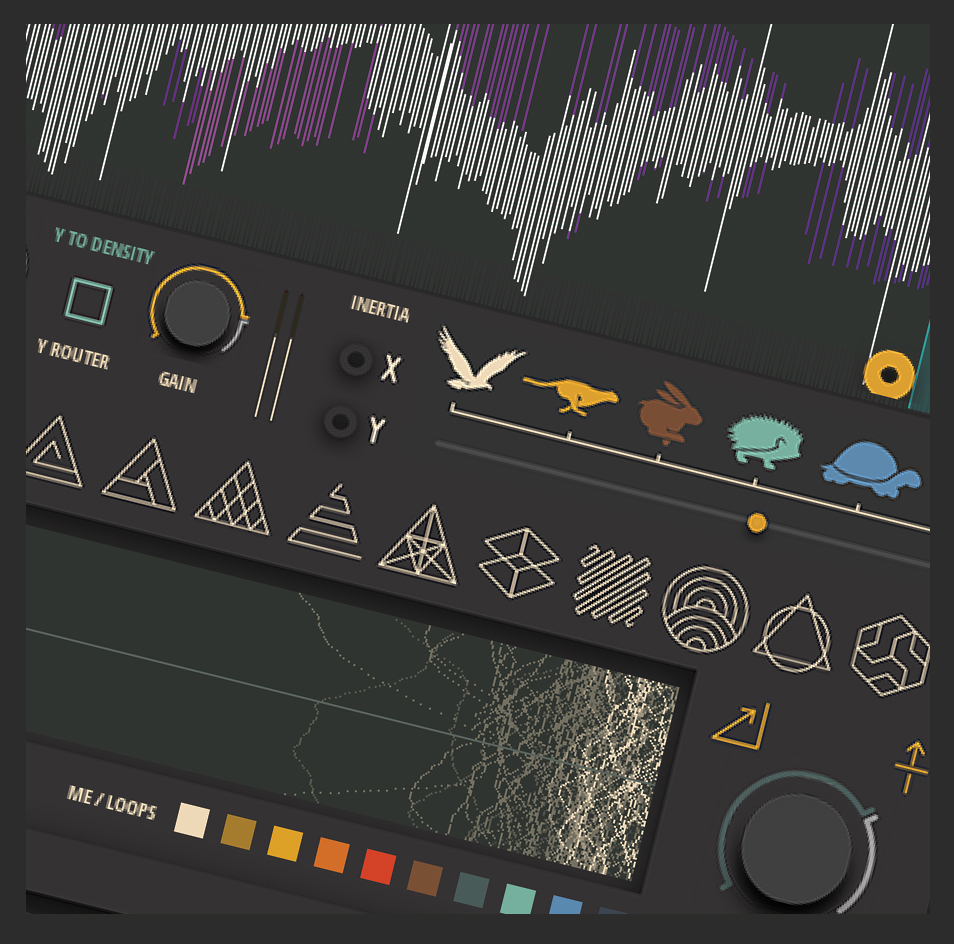 REQUIREMENTS
– a MAC or a PC with a FULL version of Reaktor 6.2.2 (CAUTION : the .ens is not encrypted for Reaktor Player) – A screen resolution with a minimum of 1920 x 1200 megapixel for a full display on screen. – Intel Core 2 Duo equivalent must be enough with 4 GB of Ram. To give an idea this ensemble has been created on a 2,7 Ghz Intel Core i7. – CPU usage : Around 23% and 35% with a 2,7 GHz Intel Core i7, 16G Ram and Reaktor 6. – An internet connection to download the files and potential updates. –Size: 1,91 Giga
CATALIZ° is not compatible with REAKTOR PLAYER. For an unlimited experience with the instrument you need a full version of REAKTOR 6
CONCEPT, CONTROL & SIGNAL FLOW OVERVIEW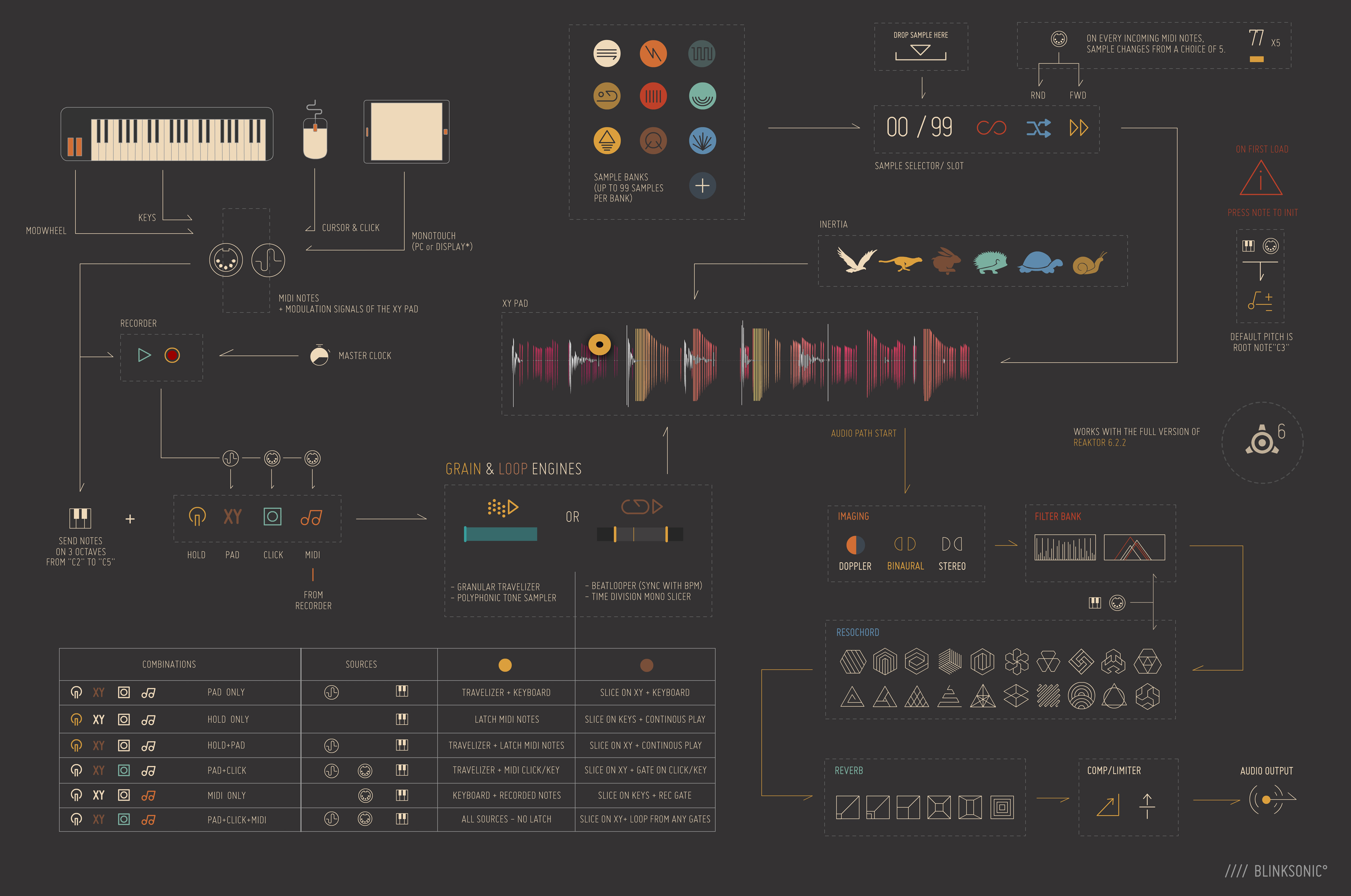 PLAYABLE MEANS TANGIBLE
Much more than an edition tool, CATALIZ° is an authentic instrument for granular synthesis real time performances. One cursor action on the pad can produce drastic and expressive modulation and harmonic changes. Thanks to the second GUI view of the instrument, which comes with a wider XY pad, the cursor can also be controlled by internal or external touchscreens. Record/overdub the envelope and the note produced by the XY pad in real time. Manage the inertia of the playback movement over the waveform. Draw a 2-axes modulation that controls the position, the density of the length of your audio sources… Even the click on the pad is sending a note… All the features that provide an instant control ! Note : Reaktor is not multitouch ready, but if you own a laptop or hybrid PC equipped with a touchscreen or an iPad/with tiers application that can be used as a second display, you can easily take advantage of the XY pad and other parameters. Monotouch is enough with this device. SO? MODWHEEL OR TOUCH DISPLAY ?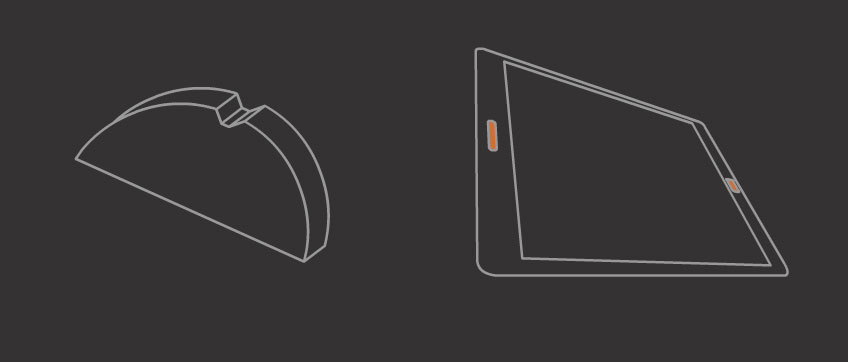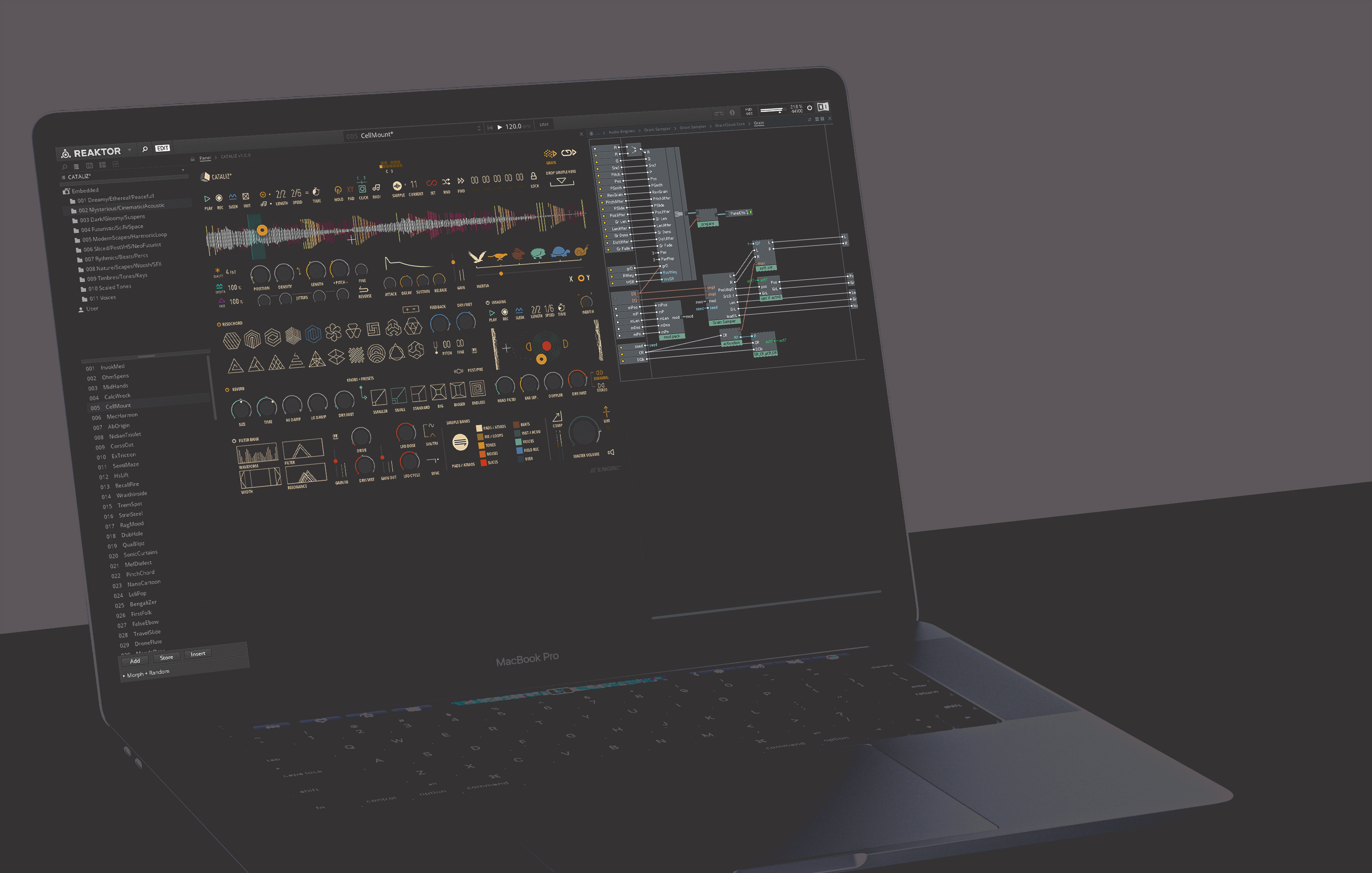 GRANULAR ENGINE
The DSP quality in granular synthesis is provided by the embedded GRAIN CLOUD module of Reaktor 6. This module is recontextualized and simplified in a unique concept dedicated to live performance.
EFFECTS
Included in the instrument, a space reverb, a stereo/binaural system with a doppler to manage the global imaging of the sound source and a minimal set of Compressor and Limiter in order to stabilize the output level behavior.
KOMPLETE KONTROL
Prepared mapping and Light Guides for NI Komplete Kontrol keyboards. 13 pages of 8 knobs for an instant control of the instrument and a special keyboard set with "Light Guide".

DRAG N DROP YOUR OWN SAMPLE
It's possible to load your own external waveforms inside CATALIZ°, thanks to the powerful Reaktor Table Framework, available since the release of Reaktor 6. For that, simply drag a .wav or .aiff files in the drop deposit box after selecting the slot of your choice, this from any folder of your browser.
FEATURES LIST :
– 2 sample engines (Grain Cloud and Beat Looper) based on Table Framework. – Granular engine with control of the position, density, length, pitch, reverse mode, ADSR envelope, 4 jitters modulation. – Beatlooper engine with control of the position, length, transpose, offset, slice size, warp speed – XY pad controller with inertia level to control velocity of the cursor movement and note generator on click – Notes and modulations recorder on 64 steps (self sequenced instrument) – 9 banks with up to 99 sounds (1,3 giga of sounds) + 1 user bank. – Drop your own samples. – 6 sample selectors – 1 for the current selection + 5 additionals that work in RND and FFW modes ( sample changes according the selection on each incoming gate events) – Resochord with 20 switchable presets, pitch/fine tuning and feedback commands. Chords pitch can also be controlled by midi. – Space reverb with 6 types (Small Room to Endless) – Stereo/Binaural/Doppler effect with XY pad to control the imaging + inertia level and position recorder – Filter bank (Modal synthesis) with LFO + frequency control via keyboard – Pump Compressor and Brickwall Limiter
Want a deep overview and see how it works =>
Any questions ? Don't hesitate to ask ! =>
Purchase CATALIZ° now and get instant download  ! =>