VOZ° – Virtual Vocalist Generator.
-> A vocal sound object, the wildest one of its kind… Put some craziness and rock attitude over your electronic music production !
-> Use human vocal formants as an oscillation source with  more than 1300 raw files. Unique set of micro sampled vocal parts : vowels, phonetics, accents, words and onomatopoeias.
-> 200 presets of psychedelic choirs, evolving pads, backing vocals, rising screams, funky hits, experimental sound fx, playable vocal parts.. Be inspired & make the machine sing !
-> A powerful sampling engine for producing multi layer evolved voice combinations and generative music. Expandable sampling concept.
VOZ° explores various aspects on how vocal sound material can be operated in a virtual instrument and allows to inject a dose of human soul in modern electronic composition. Highly customizable and flexible, VOZ° is directly dedicated to cinematic music composer or electronic producer.
REQUIREMENTS
– a MAC or a PC with Reaktor 6.2 Player & Native Access
– A screen resolution with a minimum of 1920 x 1200 megapixel for a full display on screen. VOZ° is 1300×820 megapixel.
– Intel Core 2 Duo equivalent must be enough with 4 GB of Ram. To give an idea this ensemble has been created on a 2,7 Ghz Intel Core i7.
– CPU usage : Around 30% and 70% with a 2,7 GHz Intel Core i7, 16G Ram and Reaktor 6. Depends how many sample engines and effects in use.
– An internet connection to download the files and potential updates.
– Size : 880 Mo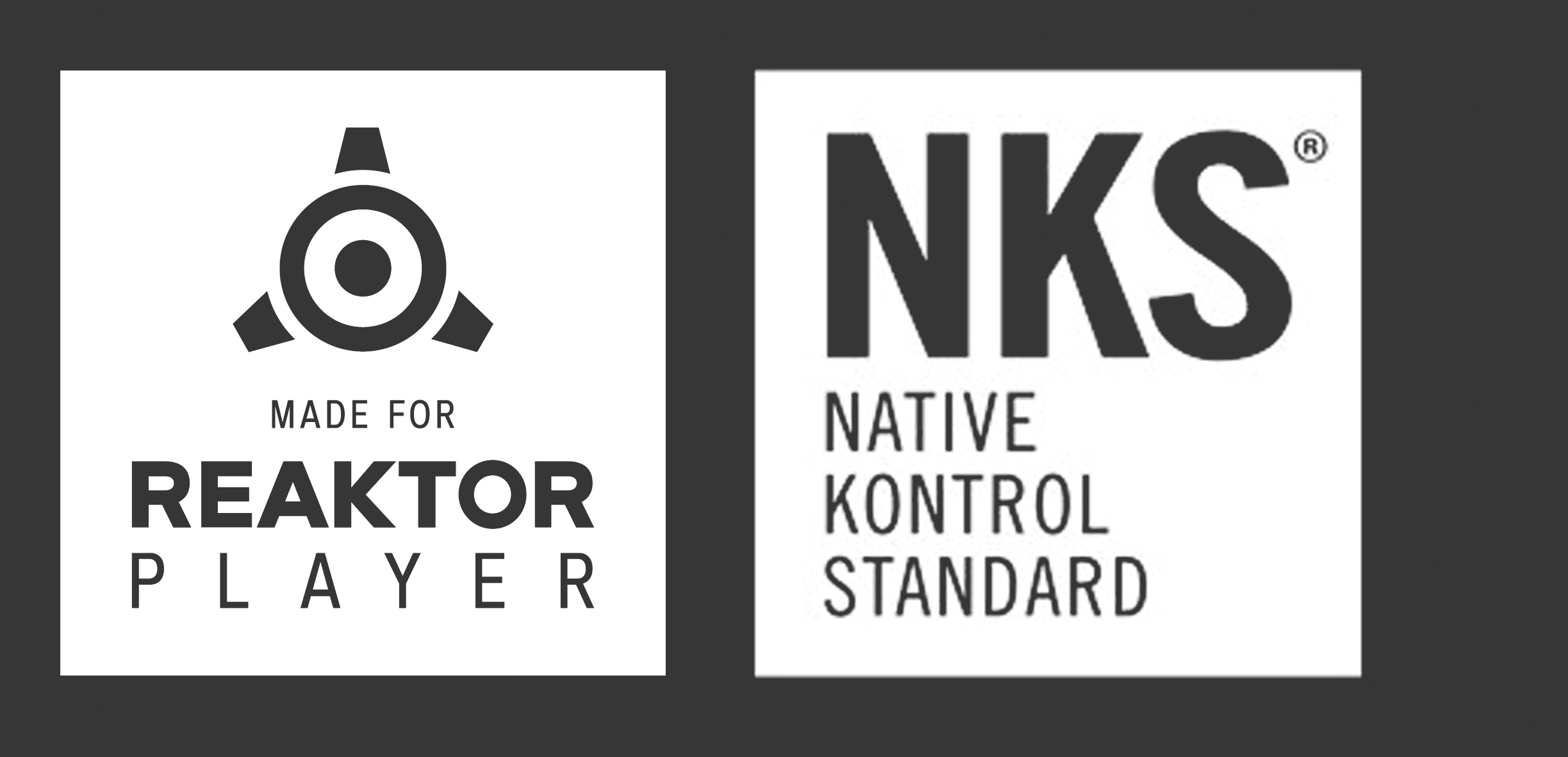 SAMPLE ENGINE
This section is the core of the instrument. Based on a « loop sampler » build, theses engines take control of external raw files source.
The 4 engines include coarse/pitch parameters, an ADSR envelope, sustain loop functions, a system for browsing the sound bank, a random mode for
launching the samples, a filter, an auto panning tool (which can be swith as a tremolo) and a compressor.

MIXER SECTION
Mix the 4 voices and inject the desired dose of effects for each tracks. An additional option for mixing in real time is avalaible with the X4 crossfader.This is a pad that makes possible to crossfade between the 4 voices through the combination of 2 axis. A line of 3 band equalizer and a limiter comes at the end of the audio chain to give the final color.
EFFECT SECTION
These 4 sources, combined via the mixer, can be shaped and modified through a complete line of 10 effects : Pitchshifter, Ring Modulator, Vowel, Overdrive, Phaser, Freq modulation, Chorus, Bit Reducer, Delay and Reverb.
The essential of theses options can be controlled by modulations generators (2 LFO, XY pad modulation recorder)
MORE MODULATIONS & OPTIONS
In this section, there's various options to get a more expressive tones :
– a LOOP CONTROL, aims to modulate the Start and End point of the sustain loop,
– an FX UNO MODS, a crossfader which manage the route of the signal path through only one effect in the 10 availables, and finally,
– some options for managing the behaviour of the 2 LFOs (delay, range, random).
RANDOM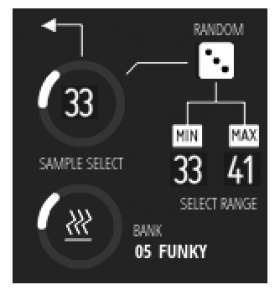 This emulation is enhanced by a random engine which can be defined with a specific range of execution order of the selected audio chops of each voices.
With this function, all sounds are aleatory launched on every incoming gate events, creating kind of « instant chaos » that makes possible subtle changes in real time, and unpredictable voice movements.
In fact, it makes resulting tones more expressive and humanized.
MODULATIONS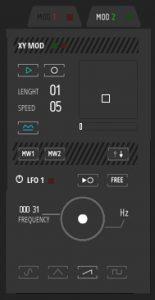 In addition to achieve a striking sound design, the instrument draws the best features from Reaktor and offers extended functions to control the expressiveness of your tones with a smart modulation engine, inspired by the BLOCKS framework.
VOZ° instrument follows the same kind of modulation system used in the BLOCKS framework.
The A/B buttons on top right of each Blocks are replaced here by 2 buttons (MOD1 and MOD2), which have the same function, revealing all bipolar sliders of
each effects parameters.
It's possible to choose between 2 modulation engines :
– an XY CONTROL PAD which generates a modulation in 2 axis.
– 2 classic LFOs
DRAG N DROP YOUR OWN SAMPLE
Note that it's a real tone sampler, so it's also possible to load your own external waveforms inside it, thanks to the powerful Reaktor Table Framework, available since the release of Reaktor 6.
For that, simply drag a .wav or .aiff files in the drop deposit box of the voice, this from any folder of your browser.
Sketch your ideas
During the sound design process, you may be inspired testing the tone with your keyboard. It's always interesting to back up great ideas that comes spontenously. That's why it' implemented a midi looper. This feature aims to record sequence ideas in Midi synchronized with the master clock. It's really basic polyphonic midi note recorder and no export is possible, but it can be a useful feature when running the plugin in standalone.
SOUND COLLECTION
VOZ° comes with a collection of 1520 basic waveforms including elements of speaking, screaming, whispering, breathing, yelling, laughing, growling, throating… All kind of vowels, phonetics, accents and onomatopoeias.. even whole words and piece of phrases.
All are classified in 16 categories following an index of intensity in the voice presence and musical tendencies.
During the resynthesis process, I took care to maintain vocal sources in their best expressive forms.
All original curves, glides, bends, vibratos and natural dynamics levels have been preserved.
I only retuned most of the samples for being harmonized and chromatically suited.
The instrument also comes with synthesizers and instruments tones from the previous release AETONZ°, to give complementary basis on some presets.
SOUND ORIGIN
I have been involved as a singer during 15 years on various projects and this collection got its origin from my own recordings.
It's not my intention to turn VOZ° project as a self celebration. It's just that I found in my archives, enough sound material to be extracted in order to create a consistent audio raw files database.
Essentially connoted with a weird english accent, all the samples mainly recall the energy of the « nineties ».
Along these years of recordings, everything have always been commanded by an irreverent and rebellious attitude, that's finally makes this sound bank very singular, with a unique character and animated soul.
PRESETS
The instrument comes with more than 100 astonish snapshots which are various multiphonics templates.
The first volume of presets covers a large range of music style : Indie pop, Electro, Funk, Urban, Heavy Metal, Cinematic but also Sound FX..
It could be a good starting point for creating your own voice parts and adding some human interactions over your instrumental tracks.
https://www.facebook.com/blinks0nic/videos/1398595736873375/
FEATURES LIST :
– 1520 raw audio files (around 600 Mo on disk)
– 100 snapshots
– 4 sampler engines with granular loop functions (Start/End points, Sustain loop Start/End points)
– Drop your own wave files*
– Pitch, Fine tuning parameters*
– Reverse sample playback*
– Polyphonic or Monophonic switch*
– ADSR enveloppe*
– Selectors for the 16 banks of 99 samples*
– Random trigger mode with definable minimum and maximum range*
– Filter with 4 types (Lowpass, Bandpass, Highpass, Notch)
– Stereo imager with a switchable Autopan/Tremolo*
– Compressor*
– Loop control modulation. Enable the movement of the Start/End loop points over the waveform following modulation sources*
*On each sampler engines.
– 10 effects : Pitchshifter, Ring Modulator, Vowel, Overdrive, Phaser, Freq modulation, Chorus, Bit Reducer, Delay and Reverb.
– A minimum of 2 parameters for each effects and the ability to receive external modulations.
– Uno FX mode : Crossfade the main audio signal through one effect at time.
– 4 tracks mixer with send effect buses and mute buttons
– 4 voices pad crossfader (XY movement loop recorder)
– 3 band equalizer
– Limiter
– 2 LFOs with expressive options ( dose, random, x/speed for creating wobble modulation effects )
– XY modulation pad recorder
– Switch to external Modwheel modulation sources
– Virtual touch keyboards for playing notes with the cursor (glissando mode)
– Latch/Hold button.
– Keyboard note range selector
– Root note and scale selector
– Midi note loop recorder ( for recording sketches and melodic phrases ideas)
– Modern graphic interface with a blurry color scope.
– NKS support
SELECT NOTE RANGE PER VOICE :
Behind the touch keyboard, you can set the range note for each voices.
The features aims to adjust a specific key mapping.
Bonus : If you are the lucky owner of a Kontrol S, the light guide will indicated for each range the color which corresponds to the voice mapped in the related zone.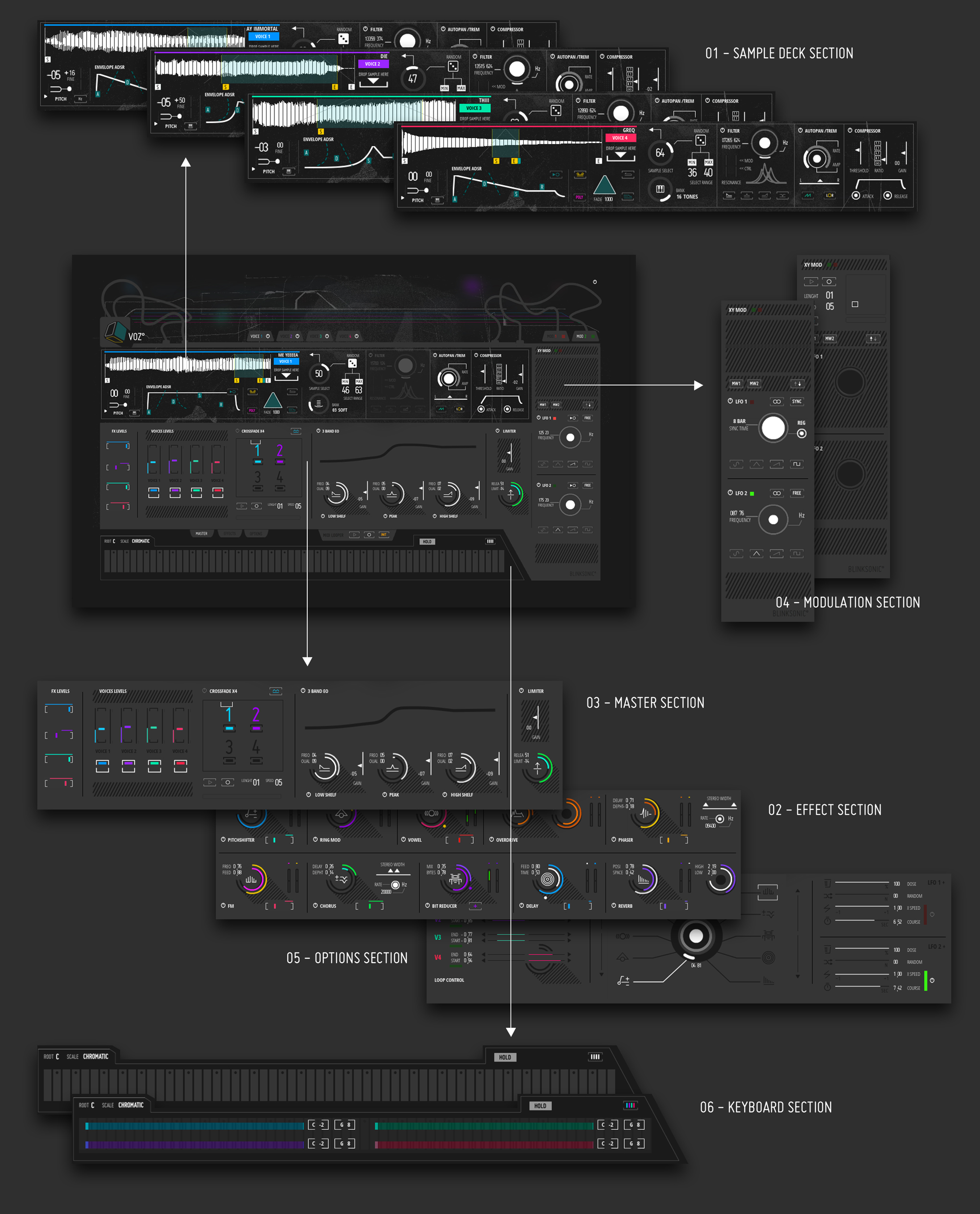 UNIQUE SOUND DESIGN TOOL
Due to the complexity and the affluence of a vocal waveforms, the possibility to mutate audio files in real time, the singularity of the sound bank contents and all the features which aim to customize the resultant textures, VOZ° is an astonish piece of instrument that push the concept of a voice synth further.
It offers a modern graphic interface and can also be a good multi sample host engine.
More than being a soundware, electronic musicians can benefit a cutting edge concept of sampler inspired by the semi modular synthesis.
VOZ° promises noisy, punky and unconventional experiences, for both lyrical and epic sonic adventures.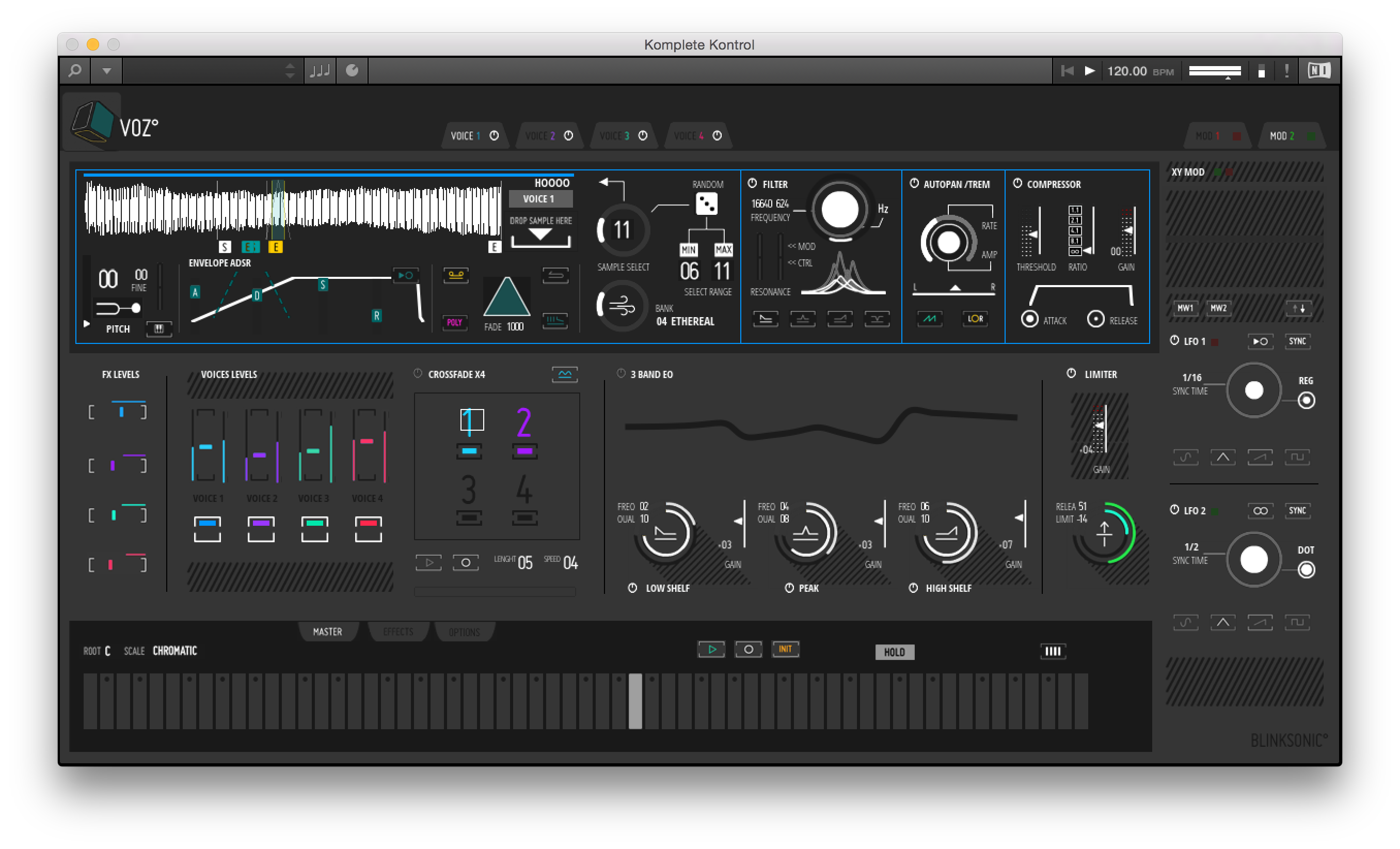 Secondary view for a better integration inside MASCHINE 2 and KOMPLETE KONTROL softwares.
MADE FOR REAKTOR PLAYER
BLINKSONIC° instruments are developed using Reaktor 6, a powerful and customizable modular software.
Since August 2017, all Blinksonic° instruments are formated to run with the free REAKTOR PLAYER and can be opened either standalone or as a VST/AU/AAX plug-in within your favorite DAW.
In short, it's not necessary to have a full license of Reaktor 6 to use our instruments.
Download REAKTOR PLAYER
NKS READY
VOZ° is fully NKS (Native Kontrol Standard) compatible.
This Native Instruments' extended plug-in format allows for intuitive and seamless interaction between plug-in instruments and KOMPLETE KONTROL and MASCHINE hardware.
A custom integration designed have been prepared to work with the Native Map and Light Guide.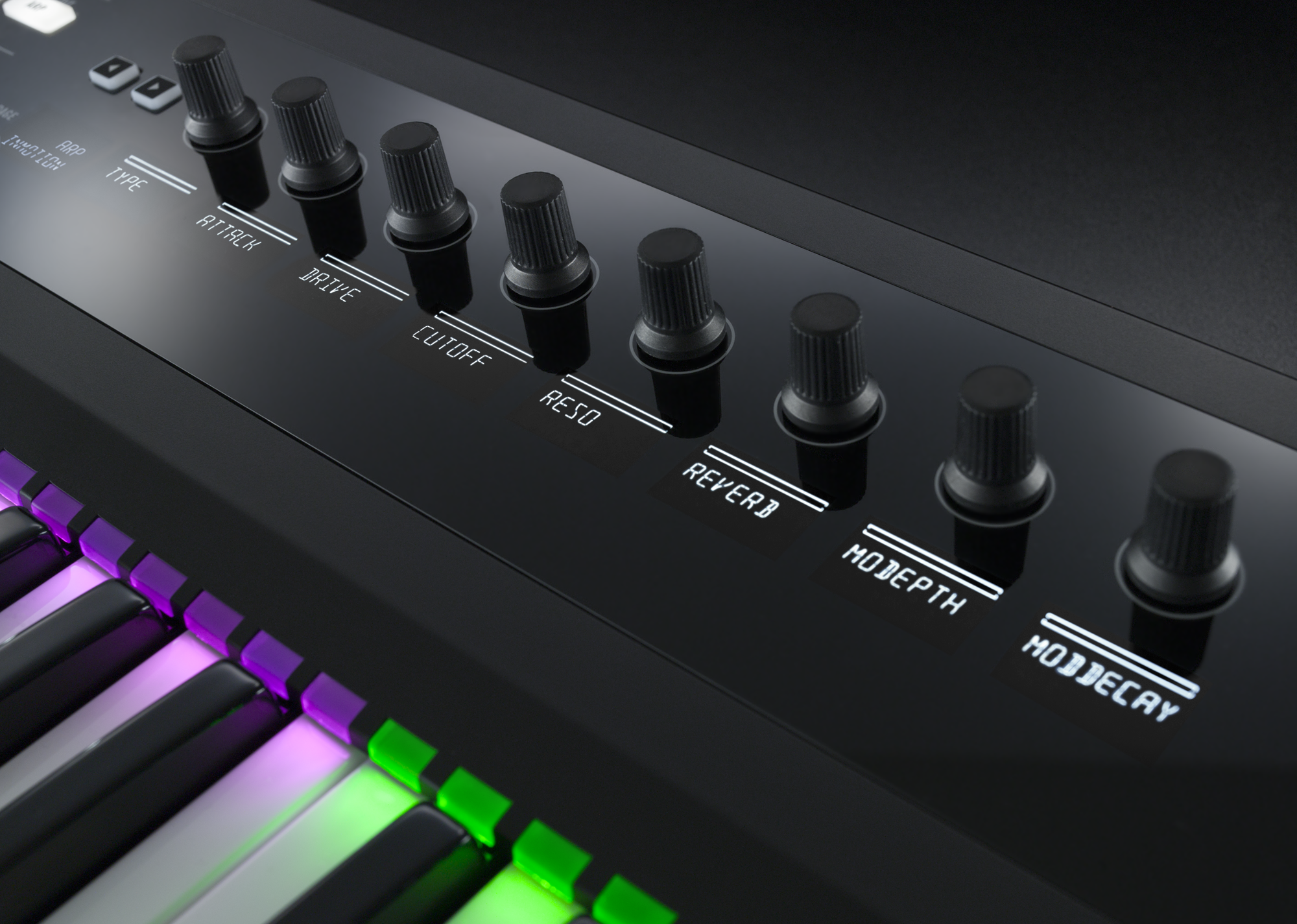 Tutoz_#01 – How to use Random mode.
Tutoz_#02 – How to create a simple evolving choir.
Tutoz_#03 – How to play with loop markers.
Want a deep overview and see how it works =>
Any questions ? Don't hesitate to ask ! =>
Purchase VOZ° now and get instant download  ! =>