SUBSTANZ° – GrooveBox & Finger Drumming Platform.
-> A complete arsenal for performing modern beats with only 4 tracks. Less is more !
-> The perfect crossover between a groovebox and a finger drumming platform.
Recycle ideas in the studio and get pro-actively inspired during live sets.
-> A collection of multilayered sound material.
244 raw files, 128 kits, only wait for being launched by your fingers.
-> Smash the whole mix with the FX PROCESSORZ, a wide bus of 25 effects modules that can be instantly triggered via midi.
All these features make SUBSTANZ an addictive and powerful beat station for Reaktor 6 that can not leave you indifferent if you are looking for a virtual instrument offering a paradigm of performance, originality and inspiration.
REQUIREMENTS
– A MAC or a PC with Reaktor 6.2 Player & Native Access
– A screen resolution of a minimum of 1920 x 1200 megapixel for a full display on screen of the instrument. SUBSTANZ° measures 1665 x 977 megapixel.
– Intel Core 2 Duo equivalent must be enough with 4 GB of Ram. To give an idea this ensemble has been created on a 2,7 Ghz Intel Core i7.
– CPU usage : Around 16% and 27% with a 2,7 GHz Intel Core i7, 16G Ram.
– An internet connection to download the files and potential updates.
– Size : 177 Mo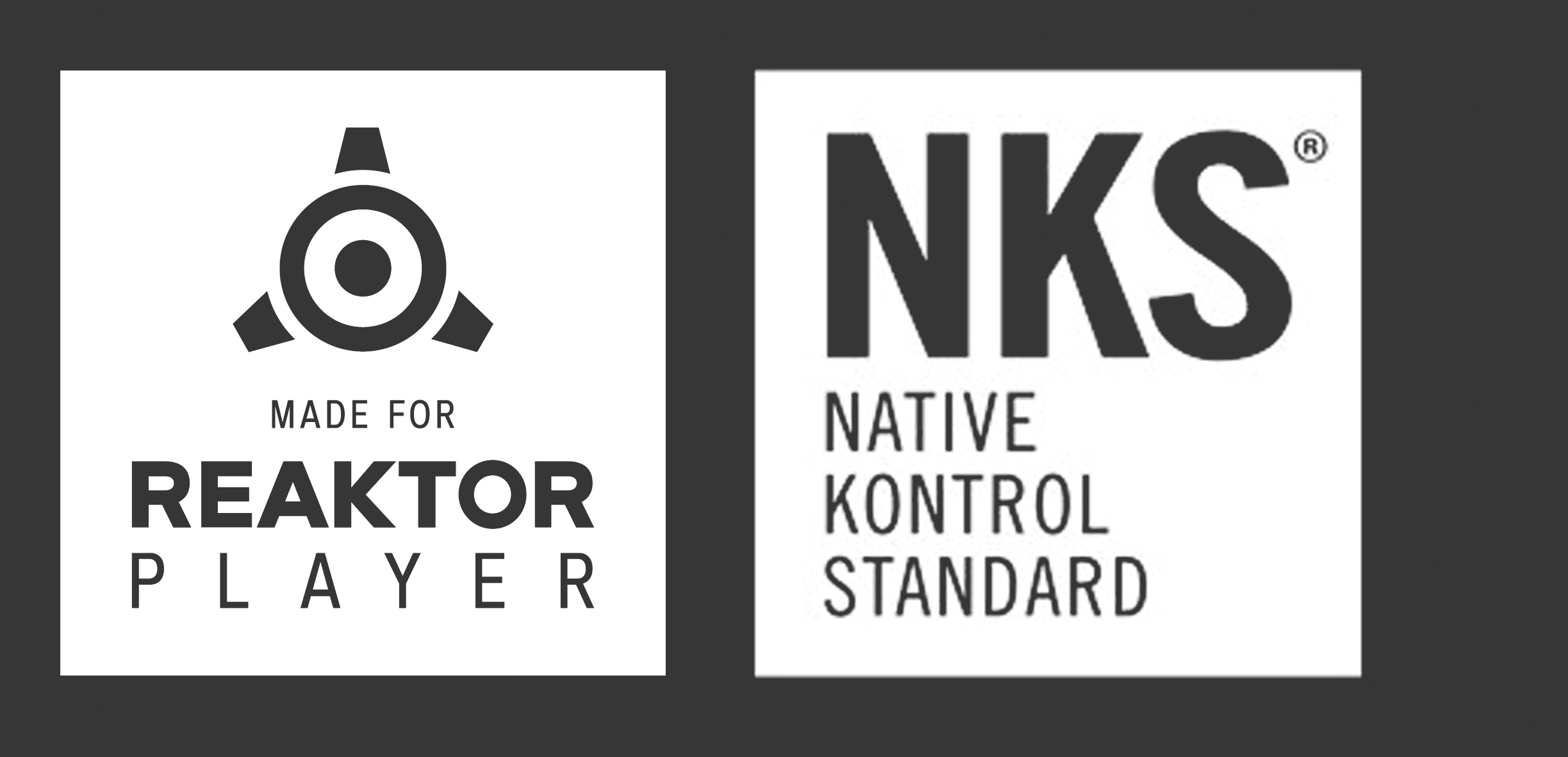 RANDOM FUNCTION
SUBSTANZ also contains the same concept, previously explored with Blinksonic° RUIDOZ and AETONZ, with a random modes which make possible to define a range of aleatory on each gate events.
This process injects a random dose for every sounds launched by the 4 decks.
Following this principle, it's possible to create astonishing and evolving loops on each voices.
4x 16 STEP SEQUENCER
This sequencer will feed the 4 decks with a vaste range of possibilities. Quantization, direction, number of steps, start point offset, swing level..
This toolbox is good enough to create complex rhythms. It is also possible to adjust the pitch on each step. The "random" command is highly effective for creating breaks while playing a phrase.
Magic operates even more when the midi controls of each slot are operated in real time because the manual interpretation is printed in addition, while staying within the predetermined time range.
SPRING REVERB
Make resonate Substanz° with this famous "boiiinnng", damped, dulled, and vintage color. Not the most realistic spring reverb ever, but enough interesting to give an exotic character to your tracks. A good one for a virtual acoustic experimentations on drums !
SOUND COLLECTION
SUBSTANZ comes with a unique collection of samples, based on 61 drum kits which cover various electronic music styles.
These drum kits are a subtle reworked of percussive tones from differents rhythm boxes, famous « amen breaks » and vintage acoustic drum parts.
All have been previously recycled in a blending audio process for getting 244 original high quality sounds which got the particularity of having a long release, hybrid tones and a multitimbral layer.
This illustrated collection is splitted in 4 cutting-edge categories :
«Kickz» basic sub waveforms morphed with classic kick drums, noises and clicks,
«Snarez» a blend of synthetic and vintage snare drums which contains a multi texture and particular acoustic response,
«Cymbalz» hybrid waveforms that combines both open and closed hit/hats with crash and ride elements on the background,
«Magnetz» a selection of harmonic audio signals merged with some tom drums, reversed audio slices and other percussive tones.
PRESETS
Around 140 snapshots and 128 kits are already included. A revisit of various music style (IDM, GlitchHop, House, Trap, Electro, DNB), it also shows what substanz got in the belly.. . You can use them to make a good start managing this little monster… even incorporate them to your creation.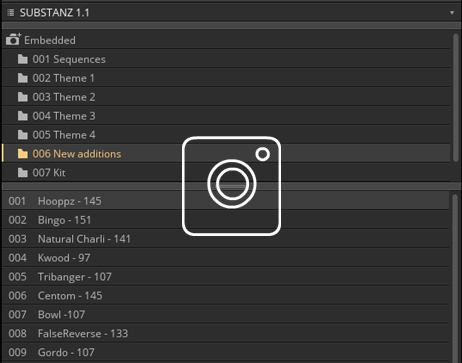 MASTER EFFECT CHAIN
Manage the dynamic of your mix with the included master effect chain :  equalizer, compressor & flat/pump limiter. If you like to supercharge your audio out, this cohesive toolset will perfectly do the job.
SNAPSHOT ARRANGER
The instrument has been also designed to provide an extensive solution for composition and to subsequently be easily transposed for live use, create a simple rhythmic basis and be able to tweak and adjust without losing the essence of the original idea.
The « snapshots arranger » is also available for this. It's possible to build the skeleton of a song with this module which takes the control of presets and gives an order of execution to all of them.
It can also be used as a"lock" function : a snapshot is running, add some twickle and modification and after a predefined time quantization, the snapshot came back to original state.
LOAD YOUR OWN SAMPLE
SUBSTANZ° takes advantage of the "Grain resynth modules", a primary macro which enables to embed external samples.
Use the Reaktor "Sample Map Editor" for importing  your own sound libraries. It's easy as dragging files from your browser inside it. If you want to know more, it's fully explain in Reaktor User guide.
FEATURES LIST :
– 4 Sample Decks with pitch, decay, grain size, reverse mode, LP/HP Filter, panner..
– Launch samples with external midi or intern midi sequencers.
– Switch easily between this 2 performance modes.
– 4 banks of 41 prepared hybrid digital and vintage drum kits
– Random mode with zone and range selector
– « Global Pitch » and « Global Grain Speed » for modulating the 4 decks in real time
– Pre mixer, mute track and FX send level
– 4 x 16 steps sequencers, with time sync and direction selector. Set pitch per step, Adjust swing, start point and add some randomness to the loop.
– Add midi gate events over the sequencer in real time with the virtual pads (can be controlled with Midi)
– Quantize these events with the time sync selector for creating rolling drum effects.
– Quantize trigger
– 25 effects : Distortion, Bit Reducer, Feedback, Gate, Autopan, UFO, Ring Modulator, Phaser, Flanger, Freq Modulator, Resonator, Vowe, Lowpass, Bandpass, Highpass, Pitchshifter, Reverse, Scratch, Stutter, Looper, Delay, Reflection, Repeat, Reverb, Drop.
All can be enable on the fly and adjust by 2 parameters.
– Fx modulation LFO for controlling the 2 fx parameters (X/Y)
– 3 band Equalizer
– Spring reverb (based on R5 Library)
– Compressor
– Flat/pump crossfader. Kind of finalizer/limiter
– Snapshot Arranger for building songs or more structured sequences
– Intern BPM/Clock function with Divide button.
OPTIMIZED FOR REAL TIME PERFORMANCE
SUBSTANZ concept provides a complete solution for switching between pre builded sequences and more lively performance with real time drum taps launched by an external midi devices.
Minimalistic as powerful, Substanz° workflow highlights all the controls you need to put your hands quickly on any parameters.
A smaller alternative view is available which just displays the strict essential for performing on a pre builded set of kit and sequences.
MADE FOR REAKTOR PLAYER
BLINKSONIC° instruments are developed using Reaktor 6, a powerful and customizable modular software.
Since August 2017, all Blinksonic° instruments are formated to run with the free REAKTOR PLAYER and can be opened either standalone or as a VST/AU/AAX plug-in within your favorite DAW.
In short, it's not necessary to have a full license of Reaktor 6 to use our instruments.
Download REAKTOR PLAYER
NKS READY
SUBSTANZ° is NKS (Native Kontrol Standard) ready.
This Native Instruments' extended plug-in format allows for intuitive and seamless interaction between plug-in instruments and KOMPLETE KONTROL and MASCHINE hardware.
A custom integration designed have been prepared to work with the Native Map and Light Guide.

FX PROCESSORZ
This section comes to be "the icing on the cake", with 25 effects modules which can be instantly triggered via midi, a complete effect processor build for live ! All the modules are plugged in serial following this order :
Distortion >> Bit Reducer >> Feedback >> Gate >> Autopan >> UFO >> Ring Mod >> Phaser >> Flanger >> Freq Mod >> Resonator >> Vowel >> Lowpass >> Bandpass >> Highpass >> Pitchshifter >> Reverse >> Scratch >> Stutter >> Looper >> Delay >> Reflection >> Repeat >> Reverb >> Drop.
Remix, smash & twist the whole audio in real time and create impressive playable sound mangling.
Add glitch movements and make your mix scream.
All effects can be launch instantly or in locked position and can receive the modulation of the 2 LFOs.

TRY PROCESSORZ° for BLOCKS
In April 2017, this multi effect has been transposed to the Block framework under the name : PROCESSORZ°.
Each effects have 2 basics calibrated parameters which can be controled via the A/B modulations from any devices or sources available inside your block patches.
To get a bonus of expressivity, this modulation events can be turned on and off via MIDI, the same way you press on effects buttons.
PROCESSORZ° can be plugged to 4 different stereo sources inside your block. The effect dose of each tracks can be parameter with the 4 sends control knobs.
It also works pretty well as a plugin effect inside your DAW (Ableton Live, Maschine).
PROCESSORZ° is minimalist as powerful for adding some vibrant audio events and changing dimension of any sounds. Many combinations are possible with this kind of FX periodic table.
You can download it for free, connected to the Reaktor User library.
Download PROCESSORZ°
Want a deep overview and see how it works =>
Any questions ? Don't hesitate to ask ! =>
Purchase SUBSTANZ° now and get instant download  ! =>